A month before stay-at-home orders hit the west coast, Tim and I were on a road trip. We explored some of our favorite cities in Oregon then headed for the coast. True to fashion, as we got closer to the coast, so did the rain. There's a reason Oregon is known for lush greenery and foggy moody beaches. But with the rain comes the perfect excuse to stop at another coffee shop for a hot cup of brew and snack. My guilty pleasure snack on this trip, scones.
Tim had never explored the northern coast of Oregon, so I made a gameplan to stop at all the towns I remembered from trips as a little girl. First stop, Cannon Beach. Cannon Beach is a quaint gorgeous beach town known for Haystack Rock, a large rock protruding out of the ocean. You can admire the rock formation for miles as you stroll the beach. I remember windy teeth-chattering walks on the beach here. This time was no different. 
Even though it was raining, we headed straight for the beach. Tim had to experience the Oregon beaches I remember; windy wet and peaceful. (If you've never been walking on the beach during a rainstorm, I highly recommend it. It's stunning watching raindrops hit the waves and indent the sand. Bonus, you usually have the beach to yourself.) We walked along the beach a while as the rain came down harder. I left the beach with drenched hair, but my heart was happy.
Cold and wet, we needed coffee. We headed to the local coffee roaster in town and ordered decadent hot coffees to warm us up. As we were ordering, we were drooling over the fresh baked goods sitting on the counter. We decided on a savory scone and took a seat. Now, this was not just any savory scone. This was a scone with sprinkles of cheddar cheese, green onions, and bacon. It was delicious. We fought for the last bite.
This scone was a memorable bite from the trip. I have since craved a savory scone, but it's hard to find one. Especially one done well. The other day I had a major craving for a salty savory scone and it hit me; why not make my own. With leftover cooked pork belly (the best pork belly recipe is from David Chang's cookbook, Momofuku) and fresh green onions, I knew I had to try.
I sliced the pork belly into small pieces and green onion into fine slices to ensure even distribution. This also ensures the additions don't create raw dough pockets around themselves. I've also found with scones that you don't want to mess with the dough too much. Over mixing or over kneading can cause scones to become similar to bricks. The less fuss the more fluff and rise you'll get out of your scones.
Does anyone else get excited watching their baked goods rise in the oven? This was me, sitting in front of the oven, getting what may have been considered overly excited. These scones rose beautifully. Next, the taste test. Spot on! Salty, oniony, savory, buttery. Just what I was looking for from my savory scone.
Hope you like them as much as I do.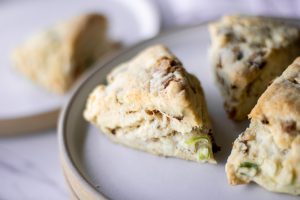 Savory Pork Belly and Green Onion Scones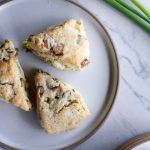 Print This
Ingredients
2 cups flour

1 tbsp baking powder

1/2 tsp salt

1/4 cup unsalted butter, chilled

3/4 cup heavy cream (could substitube with whole milk)

1 egg

3/4 cup diced cooked pork belly

1/2 cup thinly sliced green onion

1 tbsp melted unsalted butter
Instructions
Dice the cooked pork belly into very small bits and thinly slice the green onion (Cooked pork belly recipe is from Momofuku. If you don't have the book buy it, trust me.). Set aside.
Preheat oven to 375.
In a large bowl, mix together flour, baking powder, and salt.
Cut butter into flour mixture. Using your hands, break the butter down while mixing it with the flour mixture. Mixture will look and feel crumbly.
In a separate bowl, using a hand mixer, beat the milk and egg. Slowly pour milk and egg mixture into the flour mixture. Using a rubber spatula, mix together slowly until dough forms.
Remove the dough from the bowl and place it on a lightly floured surface. Gently knead three to four times, make sure not to overwork.
Divide dough in half. Gently shape each half into a circle. Cut each circle into six pieces, similar to cutting a pie.
Place the 12 pieces onto a parchment lined baking stone. Bake for 20 minutes.
Using the melted butter, gently brush butter on the top of each scone. Place back in the oven and cook for an additional 5 to 10 minutes until golden brown.
Serve warm and enjoy!