I love a good one-pot meal. One-pot meals are great because cleanup is a breeze. And most often, they're a comforting easy meal. This one-pot rice and red beans dish is definitely one of those meals.
Flavored with cumin, oregano, cayenne, red wine vinegar, and green bell pepper, it's reminiscent of gumbo with a touch of New Orleans. Although it has the flavors, it doesn't have the hours sitting over the stove developing the roux.
This dish itself can be eaten as a vegetarian meal or you can add some meat to enhance those New Orleans flavors. Blackened shrimp or chicken and andouille sausage sliced on top would be the perfect additions. I like to eat mine with some added Crystals and andouille sausage from Primal Cuts Market here in town.
An important step in developing the flavors of this dish is the cooking of garlic, onion, and bell pepper. First, make sure that you dice the onion and bell pepper into small pieces. This allows you to get a little bit in each bite. Then, while cooking them, make sure that you cook them until the onions are translucent and almost beginning to caramelize. This helps develop depth to the dish.
Also, I love doubling this dish and saving some for leftovers! The flavors develop more and soak further into the rice as it sits in the fridge. I love heating a little and adding an over-medium egg on top for breakfast. The one-pot rice and red beans create the perfect fuel-filled breakfast and dinner.
Another important thing to note about this recipe is the importance of using the lid and keeping the lid on the entire time it's cooking. Do not peak under the lid for the thirty-five-minute cooking time. Allow the steam to develop, fully cooking the rice and red beans. It may be tempting to look but trust the process. It's cooking and going to taste amazing!
One-Pot Rice and Red Beans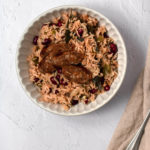 Print This
Ingredients
2 tbsp avocado oil

1 green bell pepper, diced

3 cloves garlic, minced

1 medium onion, diced

1/2 tsp oregano

1/4 tsp cumin

1/8 tsp cayenne

1 bay leaf

2 tsp better than bouillon, vegetable base

1 cup white rice

1 tbsp red wine

1/2 tsp salt

1 can red beans, with juices

1 cup water

Crystal hot sauce, optional, for serving

andouille sausage or shrimp, optional, cooked on the side
Instructions
Dice the onion, bell pepper, and mince the garlic. In a heavy-bottomed pot, add 2 tablespoons of avocado oil. Heat the pot over medium heat. Add the three and cook, stirring occasionally, until the onions are translucent. 
Add the vegetable bouillon, bay leaf, cumin, oregano, cayenne, and rice. Stir for 1 minute until well mixed and all the rice is coated in oil.
Add the entire can of beans (including the liquid), water, and vinegar. Stir to combine. Cover and bring to a boil, then immediately reduce to a simmer. Allow the rice and beans to cook covered for 35 minutes. It's important you keep it covered to allow the steam do its magic. Keeping pot covered, let it rest off the heat for another 10 minutes. Fluff with a fork and serve. Optional to add andouille sausage or shrimp on top of the rice and beans.
Enjoy!