I always thought waffles were just waffles. But it turns out, there's a purely magical waffle out there; the liege waffle.
I first had a liege waffle while visiting one of my favorite towns in Oregon at an artsy coffee roaster.  My fiance ordered one to go with our morning cuppa, thinking it was a small simple waffle. He was tempted by the smell of freshly baked waffles filling the air with a rich sweetness. We were handed a warm waffle alongside our coffee and sat down with our morning treat.
The outside of the waffle had a caramelized crust. The inside was soft, more bread-like with buttery layers. The best little surprises were bits of pearled sugar that semi-melt within the dough. One waffle clearly wasn't enough. We bought another one, finishing it quickly with the last of our coffee. My parents quickly fell in love with these buttery sweet waffles too. We returned the next day just to ensure we ate more liege waffles before leaving town.
Months have since passed, but the sweet decadent morning treat still remains the best waffle I've had to date. So with no traveling plans in sight and unable to head to Oregon due to Covid-19, I had to find a way to bring the waffles to us. I ordered a bag of pearled sugar and went to work.
These waffles take some extra time compared to the quick mix and bake style but are so worth the extra wait. The dough is similar to bread dough, including yeast, warm milk, and lots of butter. Lots and lots of butter. After mixing the dough together, the dough rests and rises similar to bread. Once doubled in size, you gently mix in the pearled sugar to ensure there are bits of sweetness in each bite. The pearled sugar creates caramelization on the outside, making liege waffles addictive. They're absolutely amazing and slightly addicting, especially when eaten hot off the maker.
Liege Waffles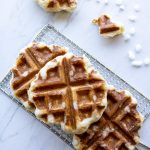 Print This
Ingredients
3/4 cup warmed whole milk

2 tsp active yeast

2 tbsp sugar

2 large eggs

12 tbsp melted unsalted butter

3 1/2 cup all-purpose flour

1 tsp kosher salt

1 tsp vanilla

8 oz. pearled sugar
Instructions
Warm the whole milk in a microwave-safe bowl for 40 seconds. Pour into the bowl of a standing mixer. Sprinkle the yeast and sugar over the warmed milk and allow to sit for 5 to 10 minutes. The yeast should look foam-like.
Add both eggs and melted butter slowly while whisking as to not scramble the eggs.
Add three cups of flour, salt, and vanilla to the mixture. Using the dough hook, mix until smooth.  Add remaining flour and mix on medium for 2-3 minutes.
Cover the bowl with beeswax paper for 30 minutes or until double in sized.
Once risen, mix in the pearled sugar using a large wooden spoon or using your hands. I typically start with a large wooden spoon then continue using my hands to ensure the sugar is thoroughly mixed.
Turn on the waffle maker to medium-high and allow it to preheat.
Using a kitchen scale, weigh out the dough and then evenly distribute the dough into 10 even-sized balls weighing roughly 3 to 4 ounces.
Spray the waffle maker grids with cooking oil, I use avocado oil, to ensure the dough doesn't stick. Cook the waffles one at a time until the dough is cooked through and the outside is caramelized and browned by the pearled sugar bits. Timing may vary depending on the waffle maker. Be careful not to burn the sugar though as it will create a bitter taste.
To keep them all warm until service, place the waffles on a baking rack and place in the oven at 220 degrees.
No toppings needed, simply enjoy!