When I celebrate anything, I always include chocolate. We're talking always. And what better way to include a lot of chocolate flavor to a celebration than with a plate of brownies. That's why this year I'm celebrating St Patrick's day with Guinness brownies.
Drinking a cold Irish stout reminds me of rainy days in Dublin and visiting the Guinness factory. Each trip, as I climbed through the self-guided factory, I was drawn to the observation deck. The freshly poured Guinness with a shamrock on top tasted like perfection while overlooking the city of Dublin.
These brownies are fudgy, made with decadent cocoa and Guinness. When you're mixing the batter, make sure not to overmix the flour cocoa mixture. Overmixing the batter will result in tough brownies. Gently fold it in until the flour mixture is just combined. You want a tender fudgy brownie.
These brownies call for caster sugar, which is a superfine sugar commonly found in English baking. Although this is a great sugar to bake with, you can use standard white sugar instead. My favorite semi-sweet chocolate to add to the top of these brownies is Enjoy Life because of its clean ingredient list.
Also, if you don't want to add the Guinness but want delicious brownies, substitute the beer with an egg. So instead of one egg, you'll add two eggs to the batter. You'll bake the brownies the same way, baking just until the middle no longer jiggles. Although it will seem under-baked, the brownies will continue to bake while they cool in the pan.
Enjoy these Guinness brownies alongside a pint!
Guinness Brownies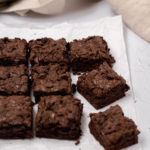 Print This
Ingredients
1/2 cup unsalted butter, melted

1 tbsp vegetable oil

1/2 cup fine caster sugar or white sugar

1/2 cup dark brown sugar

1 egg

1/3 cup Irish stout

1 1/2 tsp vanilla

1/2 cup all-purpose flour

1/2 cup cocoa powder

1/4 tsp kosher salt

1/4 cup semi-sweet chocolate, chopped and shaved
Instructions
Preheat oven to 350F.
Prepare an 8 x 8 square pan by adding a sheet of parchment paper in the pan. Set aside. 
In a medium mixing bowl, add butter, oil, and both sugars. Using a hand mixer, whisk the ingredients on medium-low together for 1 minute until well combined. Add the egg, Irish stout, and vanilla. Whisk the ingredients in for an additional minute. Set aside.
In a small bowl, whisk the flour, cocoa powder, and salt. Add the flour mixture and fold in the flour cocoa mixture until there are no flour bits showing, but don't over mix.
Add the brownie batter to the square pan. Chop and shave the semi-sweet chocolate and sprinkle over the brownie batter.
Place the brownies in the oven and allow to bake roughly 25 minutes or until the middle no longer jiggles. Remove the brownies from the oven and allow them to cool in the pan for an additional 20 minutes. Then, remove the parchment paper with the brownies and allow them to continue to cool on a cooling rack.
Cut into squares and enjoy!