I pretty much crave Mexican food daily. Which often means that I wake up thinking of Mexican food. The spices, the complexity and depth of flavors, and tortillas. My mouth is watering just thinking about it. But because I often crave it, I usually have leftover rice and beans in the fridge waiting to be used for breakfast. These leftovers inspired my regular breakfast meal of a vegetarian Mexican bowl.
This bowl has everything I want first thing in the morning. It's savory, a little salty reuses leftovers, and goes perfect with eggs. My vegetarian Mexican bowl also has the perfect combination of carbohydrates and legumes to create a complete protein. This provides essential amino acids and iron similarly to what you'd find in an animal-product protein source. Although I also add an egg to my bowl, you can omit the egg and create a healthy vegan Mexican bowl
I love how quick and easy this bowl is first thing in the morning. Since I make such big batches of my spicy Mexican rice and black beans, I typically have leftovers for a couple of meals. This one is my favorite way to repurpose the leftovers. They're good wrapped up in a tortilla to make a burrito too.
For the black beans, I soak the dried beans for at least 8 hours before boiling them. If I don't have time to soak them or forget to (which happens more often than not), I skip the soaking step and boil them for 2 hours. While boiling, it's the perfect time to season and flavor the black beans. It may seem like you're over-seasoning the beans at this point, but the beans need it. This is true for water too. Whether you've soaked your beans or not, you want to ensure the beans remain submerged in water the entire time they're boiling. If not, they'll dry out and crack.
To assemble the vegetarian Mexican bowl, I like to pile up the rice and beans evenly. After warming them up, I sprinkle the beans with a bit of cotija. I then cook up my eggs and place them on top before generously topping with diced green onions and cilantro. It's then time to dive in!
Breakfast Mexican Bowl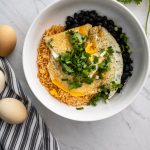 Print This
Ingredients
1 cup black beans

1 cup Mexican rice

2 eggs, cooked to your liking

salt and pepper to taste

1 green onion, chopped

cilantro to taste, chopped
Instructions
Heat up rice and black beans and Mexican rice in a microwave-safe bowl for one minute. Set aside. Cook eggs to preference, adding salt and pepper to taste. (I prefer mine over-medium most of the time, but especially in this dish. I like the slightly runny yolk that coats the rice when I mix it all together.) Place eggs over the rice and beans. Chop green onion and cilantro to sprinkle over the eggs.