Oatmeal raisin cookies always feel like a way to sneak dessert into breakfast. With the two main ingredients being oats and raisins, it seems to me as though the cookies were created for this exact reason. And honestly, I'm not mad about it. That's probably why the cookies are so popular in my house. 
In the past, I've made these cookies with traditional all-purpose flour. But why not remove the bleached flour! I took it a step further and traded out the all-purpose with almond flour when a girlfriend came over who's gluten-free. Our friendship has revolved around baking, eating sweets, obsessing over holiday flavors, and more baking. So when she became gluten-free a couple of years ago because of medical reasons, I knew we had to find a way to make delicious gluten-free oatmeal raisin cookies.
I've always enjoyed eating raisins. To me, they're absolutely delicious. They're a little dose of sweetness without being overpoweringly sweet. When I buy raisins, I make sure to buy ones that are simply sun-dried grapes. I hate when extra sugar is added, it's not needed. I typically buy mine at Trader Joe's and can get a few batches of oatmeal raisin cookies out of one bag. They're also great to add to granola, trail mix, and overnight oats. See my recipe for Oatmeal Raisin Overnight Oats here.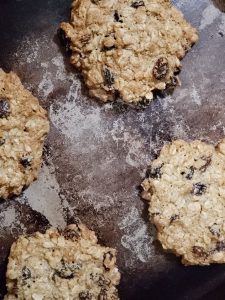 Raisins are a great source of iron. They're often recommended for those bordering on anemia or pregnant women. I've battled low-iron levels for many years, so I would often a handful a day as a little extra iron. But, like all dried fruit, eat with moderation due to their natural sugar content.
For this recipe, I've tried baking them straight after mixing the ingredients as well as letting the dough set in the fridge. Both are delicious. But I prefer to let the dough sit in the fridge for 30 minutes before baking. It just makes for a more set and delicious cookie.
Gluten-free Oatmeal Raisin Cookies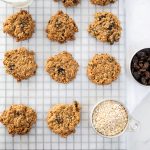 Print This
Ingredients
1 cup almond flour

1/2 teaspoon ground cinnamon (a heaping 1/2 teaspoon)

1/2 teaspoon baking soda

1/8 teaspoon salt

1/2 cup organic unsalted butter, softened to room temperature

1/2 cup brown sugar

1 large egg

1 teaspoon vanilla extract

1 3/4 cups gluten-free oats

1 cup raisins
Instructions
In a bowl, mix together the almond flour, cinnamon, baking soda, and salt. Set aside.
In a separate bowl using an electric mixer (or in that of a stand mixer fitted with the paddle attachment) cream together the butter and brown sugar for 1 minute until combined. Add the egg and vanilla extract and continue to mix until fully combined. 
Using a wooden spoon, add in the flour mixture and stir until just combined. Pour in the oats and raisins and stir until fully combined. 
Cover the cookie dough and refrigerate for 30 minutes.
After 20 minutes of the dough being refrigerated, preheat the oven to 360 degrees Fahrenheit. 
Once the dough has been in the fridge for the full 30 minutes, use a cookie or large ice cream scooper to scoop out portions of dough and place them on the baking sheet. I use a Pampered Chef stoneware so that the cookies don't stick, but the could also be baked on  a sheet pan with some parchment paper . Using your hand, gently press down to slightly flatten each ball of cookie dough. Do not flatten them completely, just slightly. 
Bake for 12 minutes or until the edges of the cookies are lightly golden brown and the top is set. Let cookies set for a couple of minutes on the baking tray before transferring them to a cooling rack. Let cookies cool on the rack for at least 5 minutes before enjoying!