These baked oatmeal squares are perfect for the days of heading back to the office. Or a perfect snack for on the trail. They're a quick breakfast for on the go packed with healthy nutrients to get your day started.
The squares are made with light brown sugar and coconut sugar, reducing the amount of processed sugar. The dried cranberries also add natural sweetness to the squares. Make sure that you're using naturally dried cranberries without the addition of extra sugar. The squares are also made with a dairy-free milk alternative, making it a lactose-free breakfast as well.
When chopping the almonds, chop them fine enough that they aren't too large yet noticeable in the bake. The crunch of the almonds is a pleasant surprise in the soft oats. If you love nut bars, I also recommend making the almond date oat bars.
When making these baked oatmeal squares, don't miss the soaking of the oats step. Soaking the oats before baking them allows the flavors to penetrate into the oats. It also keeps the oats from drying out as it bakes. And if you like your oats extra cinnamony, add half a teaspoon of more cinnamon. I know I love mine with extra cinnamon.
Once the oats are fully cooked and slightly golden brown, it's important to allow the baked oatmeal to cool. Using the excess parchment paper, pull the baked oatmeal out of the pan and place it on a cooling rack. The baked oatmeal squares need to cool for five to ten minutes before cutting into squares. Cutting them into two by two squares creates nine squares. These could be eaten throughout the week or even frozen if needed.
Baked Oatmeal Squares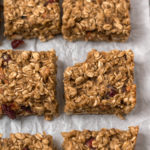 Print This
Ingredients
2 cups rolled oats

1/4 cup light brown sugar

1/4 cup coconut sugar

1 1/2 tsp baking powder

1/2 tsp salt

1 tsp cinnamon

2 eggs

1/2 cup almond milk or other dairy-free milk alternative

1/4 cup applesauce

3/4 tsp vanilla extract

1/4 cup almonds, chopped

1/4 cup dried cranberries
Instructions
In a bowl, combine oats, sugars, baking powder, salt, and cinnamon. Set aside.
In a larger bowl, whisk together the eggs, milk, applesauce, and vanilla. Add the dry ingredients to the wet ingredients and mix together using a wooden spoon. Set aside and allow the wet ingredients to soak into the oats for 20 minutes.
Preheat the oven to 350F degrees.   
After 20 minutes, stir in the almonds and cranberries.
Place parchment paper into an 8×8 square pan. Add the oatmeal mixture to the prepared square pan. Add it into the oven and bake for roughly 35 minutes or until the top is slightly golden brown.
Allow the baked oatmeal to sit and cool for at least 5-10 minutes until you slice into squares.
Enjoy!