As a little girl, I only ordered chicken nuggets as my happy meal treat. I never wanted a hamburger. In fact, I thought they were disgusting. I only recently started enjoying a hamburger from time to time, and it's rare. I still prefer almost anything else. My brother also no longer eats red meat as of the last couple of years. So when we're having a big family burger BBQ, I make turkey burgers for my brother and me.
Turkey burgers are lighter and less grease due to the lack of fat in the meat. And although some would argue this means there is less flavor in the meat, I find the opposite. These turkey burgers are full of flavor and delicious. When I feel I need the extra fat, I simply add goat cheese or avocado to the bun. And for the best bun recipe for burgers, click here.
I started making these burgers several years ago when I was extremely conscious of clean and lean eating. To add to the lean turkey meat, I use ground flaxseed in my burgers. The flaxseed adds additional fiber and allows the flavor of the meat to remain the star. Plus it helps work as a binder since I add sliced shallot to the burgers. Somedays I'll add a couple of cloves of garlic as well.
Cooking turkey burgers can be challenging because there's a fine line between cooking them to juicy perfection and overcooking them to dry oblivion. Let's be real, I've overcooked a turkey burger a time or two. But I've found the magic key to mastering the perfect turkey burger is creating a thin patty and using a thermometer. You want your turkey burger to reach an internal temperature of 165. Following the directions below and using your thermometer will guarantee delicious perfectly cooked turkey burgers.
Turkey Burgers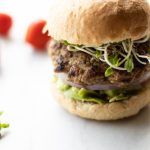 Print This
Ingredients
1 ½ lb of ground turkey

3 tbsp ground flaxseed

1 shallot, finely sliced

⅛ tsp ground pepper

Salt to taste
Instructions
Preheat the BBQ to high and place a griddle on the BBQ grill.
Back inside the kitchen, finely slice one large shallot. 
Place all ingredients in a bowl and mix until fully combined.
Measure out turkey into 4-ounce portions then shape each portion into patties.
Once the griddle is blazing hot and BBQ is thoroughly heated, place turkey patties on the griddle.
Using a metal spatula, press the turkey burger on the griddle so it gets a good sear. Allow the burger to cook for 5 to 7 minutes. Flip and repeat on the side. 
Once the internal temperature reaches 165 degrees, the turkey burgers are ready to eat.